I would hope that no one ever feels sorry for me, or better yet, that I will never have pity or sorrow for myself.
I know things are hard for all not just me, but with perseverance, and the lessons we learn or can learn from our life experiences, I am content that it could be better and more, that some have it worse.
The banter and frolic that is orated in the form of words and phrases as complaints, should have no place in the vocabulary of any one with a roof over their head, food in their stomachs or disposable income to buy more shoes or CDs when they have more than they can listen to or wear.
I keep my blessings in my mind, especially the two young ones that follow my every word and call me poppa. I just want to remind folks even when things seem to go of course, if your money aint like you used too, or you have to have a drop down drag out with a life long friend, or be upset because a movie wasn't like you thought it would be, get over it. We forget that it is the simple things that matter. That Christmas is about an open heart and the music, the memories from Christmas past. That we are not living in a Cholera epidemic, or walking in shopping malls where folks may have a bomb strapped around their waist. That we can sleep at night peacefully even when in pain without the threat of a warlord or solider coming in to kill our entire family.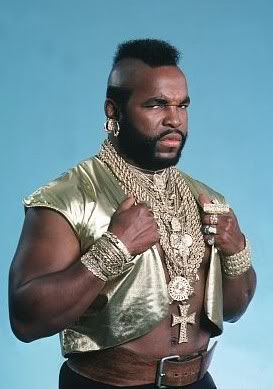 So although as I said before, times are rough, don't worry, have faith. So you don't know if you will be able to pay that mortgage, or keep your internet on, or pay the car note. What you do and need to know is that you at least had such; that you have the ability and prowess to succeed; that you have worth and value in your heart and smile; that you can love even if you don't feel love. Used to be a character on TV back in the day called Mr. T. He wore a lot of gold around his neck. Was never mad at him for that, for his reason was because his ancestors had to wear chains not by choice so he would honor him by weaning gold chains as a reminder. Not like rappers who wear chains because they use such to show they have money. Money aint what makes you valuable, no grass hopper, it is your heart, smile and acts there off. And as Mr. T said, "I pity the fool" that thinks his value is in the form of what they own as opposed to accepting their blessings, no matter how small, of being able to breathe to smile and see another day. Happy holiday's folk and happy birthday to me (dec. 22). so buy my books.